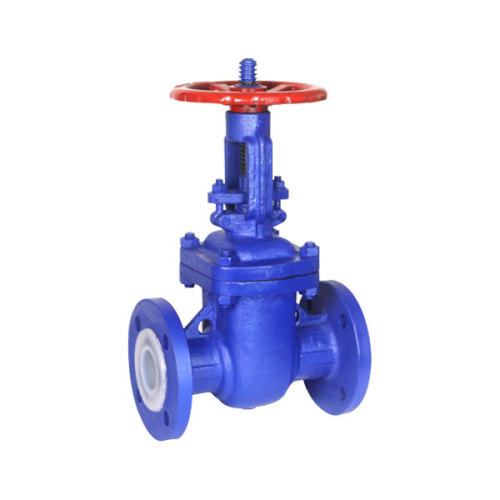 Flange type fluorine lined gate valve
Description
Flange type fluorine lined gate valve is suitable for aqua regia, sulfuric acid, hydrochloric acid, hydrofluoric acid and various organic acids, strong acids, strong oxidants of various concentrations from – 50 ℃ to 150 ℃. FEP is also suitable for pipelines of various concentrations of strong alkali organic solvents and other corrosive gases and liquid media.
Product features of flange type fluorine lined gate valve
1. The valve body has two shapes: round body for GB valves, flat body for ANSI class valves with DN ≤ 300 mm and round body for valves with DN ≥ 400 mm. The inner cavity of valve body and bonnet and the outer surface of gate and valve stem are all lined with FEP (F46) and other fluoroplastics;
2. The sealing pair is composed of FPF (F46) / FEP (F46) or other materials, with small friction and low opening and closing torque
3. PTFE (F4) standard packing is used for packing, with good sealing performance and convenient maintenance and replacement;
4. The elastic RAM can compensate the wedge angle deviation between the sealing surface of the ram and the sealing surface of the valve seat, with good coincidence and ideal sealing effect;
5. The medium can pass through the gate valve in any direction from both sides, which is suitable for the pipeline with possible change of medium direction.
Executive standard for flange type fluorine lined gate valve
Material of main parts
Drawing of flange type fluorine lined gate valve
Flange type fluorine lined gate valve z41f4 / 46-pn1.0mpa main connecting dimensions
Flange type fluorine lined gate valve z41f4 / 46-pn1.6mpa main connecting dimensions