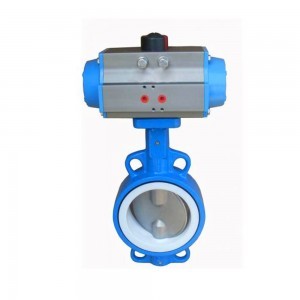 PNEUMATIC TETRAFLUORO BUTTERFLY VALVE WD71F
Description
Product characteristics
1. The valve body adopts split type, which makes it easy to replace parts on site. Epoxy coating is used on the surface, which has anti-corrosion and wear resistance. It has good resistance in salt solution, grease, alcohol, petroleum, weak acid and alkali and humid environment.
2. The key to seal is the valve seat. We choose a reasonable structure - trench type, with silicone rubber gasket at the base of the seat to regulate the sealing performance of the valve. In a reasonable pressure ratio, the valve can be in the prescribed pressure range without any leakage. Complete air tightness is achieved, and no visible leakage is observed in the barometric test.
3. The PTFE lined valve plate with spherical sealing surface is adopted.
4. Small size, light weight, small torque and easy operation. Long life, tens of thousands of open and close tests are intact.
5. It has excellent cutting performance, called durability, and has both regulation. It can be used to cut off or adjust the flow rate quickly.
6. Multifunction
Design drawings
Performance specification
Major Dimensions and Weights