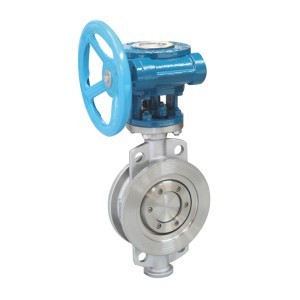 MULTI LAYER METAL HARD SEAL BUTTERFLY VALVE WITH WORM GEAR
Description
Product features of worm gear double clip multi-layer metal hard seal butterfly valve
This butterfly valve is a new generation product developed by absorbing and digesting foreign technology and combining with the opinions of domestic users and accumulated experience in production.
1. The three-dimensional eccentric structure is adopted, and the multi-level sealing ring structure is adopted for the sealing ring of the valve body, so that the butterfly plate can contact with the sealing surface of the valve body evenly and reliably, and the air seal can be achieved without leakage.
2. Unique structure, flexible operation, labor saving, convenient, long service life.
3. Three dimensional eccentricity with high temperature resistance, corrosion resistance and wear resistance.
It can be widely used in food, medicine, petrochemical industry, power plant, steel plant, industrial environmental protection water treatment, high-rise buildings, water supply and drainage pipelines. It is an ideal device for regulating flow and cutting off fluid.
Executive Standards
Main technical parameters
Materials of main parts of worm gear double clip multi-layer metal hard seal butterfly valve
Drawing of double clip multi-layer metal hard seal butterfly valve
PN0.6-PN1.0MPa Main connecting dimensions of worm gear double clip multi-layer metal hard seal butterfly valve
PN1.6-PN2.5MPa Main connecting dimensions of worm gear double clip multi-layer metal hard seal butterfly valve
PN 4.0MPa Main connecting dimensions of worm gear double clip multi-layer metal hard seal butterfly valve