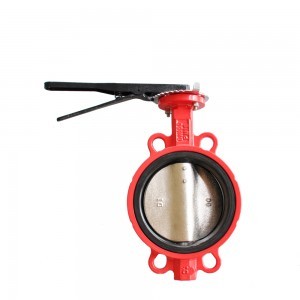 PIN-TO-PIN BUTTERFLY VALVE XD371
Description
The valve is small in size and light in weight. It can be used as a device to cut off and regulate flow in various medium pipelines. By choosing valve plates and seals of different materials, as well as pinless connections between plates and shafts, it can be used in worse working conditions, such as desulfurization, vacuum, seawater desalination system, etc. The butterfly valve with lug-to-clip can repair the downstream pipeline and equipment of the valve on-line, and the valve can repair the downstream pipeline and equipment on-line, and the valve can be installed at the end of the pipe as an exhaust valve.
Product characteristics
1. Small and portable, easy to disassemble and repair, and can be installed in any position.
2. It has simple structure, compact structure and quick starting and closing of 90 degree operation.
3. Small operating torque, light and labor-saving.
4. To achieve complete seal, gas test leakage is zero.
5. Choosing different parts and materials can be applied to various media.
6. Flow characteristic tends to be straight line and has good regulation performance.
7. Opening and closing test times are as many as tens of thousands and have a long service life.
Design drawings
Performance specification
Main Dimensions and Weights of "A" Butterfly Valve