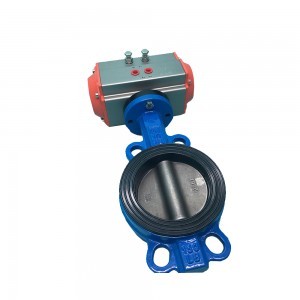 PNEUMATIC DESULFURIZATION BUTTERFLY VALVE
Description
In air pollution, sulfur dioxide is an important pollutant, and more than 60% of sulfur dioxide pollutants come from industrial flue gas emissions. With the gradual improvement and improvement of China's environmental standards, as well as the improvement of national environmental awareness, China's future projects with industrial flue gas emissions must be desulfurized. Valve is an important part of flue gas desulfurization device. The requirement of desulfurization valve is not only resistant to chloride, oxide and acid, but also to severe abrasive wear and mud corrosion. Correct selection of valve material and structure and prolonging the service life of the valve are the key to the flue gas desulfurization valve.
Always adhere to good design principles, fully considering the corrosion and wear of desulfurization slurry on the valve, to ensure that the valve plate lining is able to contact the slurry components, while other components are not corroded by limestone (or limestone) slurry. Therefore, the valve body and stem do not need to use expensive alloy (2205) material, thus greatly saving costs.
It is widely used in pipelines of petroleum, chemical industry, food, medicine, paper making, hydropower, ship, water supply and drainage, gold treatment, energy and other systems. It is suitable for a variety of corrosive gases, liquids, semi-liquids and solid powder media.
Product parameters

Major Parts Materials
Size list