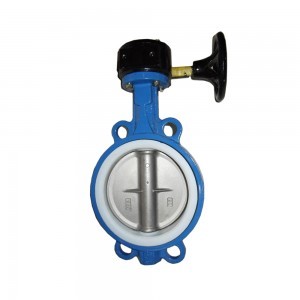 TURBINE TETRAFLUORO BUTTERFLY VALVE
Description
AKR electric actuator and BY pneumatic actuator can be equipped for the butterfly valve with tetrafluoro seal. The intelligent (adjustable) and switching type can be realized by inputting control signals (4~20mADC or 1~5VDC) and single-phase power supply. It has strong function, small size, light and cheap person, reliable performance, simple matching and large circulation capacity, especially suitable for the occasion where the medium is viscous, granular and fibrous.
Product characteristics
1. The design is novel, reasonable, unique in structure, light in weight and quick in opening and closing.
2. Small operating moment, easy to operate, labor-saving and dexterous.
3. It can be installed at any position and maintained conveniently.
4. Seals can be replaced, and the sealing performance can reliably achieve zero leakage of two-way seals.
5. Sealing material has the characteristics of aging resistance, corrosion resistance and long service life.
At present, tetrafluoro butterfly valve, as a component used to realize on-off and flow control of pipeline system, has been widely used in many fields such as petroleum, chemical industry, metallurgy, hydropower and so on. In the well-known butterfly valve technology, its sealing form mostly uses the sealing structure, the sealing material is rubber, PTFE and so on. Due to the limitation of structural characteristics, it is not suitable for high temperature, high pressure, corrosion and wear resistance industries.
Scope of application
The Tetrafluoro Sealed Butterfly Valve is suitable for pipelines and containers conveying corrosive and non-corrosive fluid media in engineering systems such as water supply and drainage, power generation, petroleum, gas (natural gas), chemical industry, smelting, food (beverage), medicine, papermaking, ships, environmental protection, etc. It is used to regulate and cut off the flow of media.
Material of Major Parts and Components

Design drawings

Major Dimensions and Weights