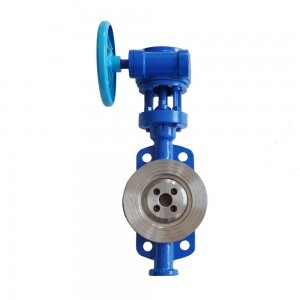 GEAR WAFER BUTTERFLY VALVE
Description
Features
1.The valve uses three eccentric sealing structure, the valve seat and disc almost no wear, with the more closely the sealing function.
2.Sealing ring selection of stainless steel production, with a metal hard sealing and flexible sealing double advantages, both in the case of low temperature and high temperature, have excellent sealing performance, with corrosion resistance, long life and so on.
3.The disc sealing surface using cobalt based alloy welding, sealing surface wear resistance, long service life.
4.Large size butterfly plate adopts quill structure with high strength, large overflow area and small flow resistance.
5.The valve has a two way sealing function, the installation is not restricted by the direction of the media, nor by the impact of spatial position, can be installed in any direction.
6.The driving device can be multi station (rotating 90° or 180°) to install, easy to use.
Pressure and temperature
Main material list
Executive Standard
Main dimensions and weight