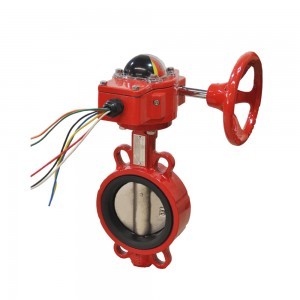 FIRE FIGHTING SIGNAL WAFER TYPE BUTTERFLY VALVE
Description
BWSX mid-line butterfly valve is a mid-line butterfly valve developed by introducing advanced technology from abroad. BWSX mid-line butterfly valve has the advantages of simple structure, reliable sealing, easy opening, long service life and convenient maintenance. Therefore, it is widely used in various pipelines of water supply and drainage system, building fire protection system, especially in fire protection pipelines.
Features:
1.Small in size and light in weight. Easy instllation and rrintenance. It can be mounted wherever nedded.
2.Sipie and compact construction, quick 90 degrees on-off operation.
3.Miniminzed operating torque, energy saving.
4.Bubbles-tight sealing with no leakage under the pressure test.
5.Wide selection of materials, applicable for various mdeium.
Specification
Dimension
Main dimensions and weight