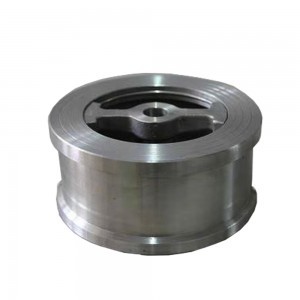 STAINLESS STEEL DISC CHECK VALVE H76W
Description
Product characteristics
1. The structure length of butterfly check valve with double lobes is short, and its structure length is only 1/4~1/8 of that of traditional flange check valve.
2. Small size, light weight, its weight is only 1/4~1/20 of the traditional flange check valve.
3. Fast closure of double-petal check valve disc with low water hammer pressure
4. Horizontal and vertical pipes can be used for easy installation.
5. Double-lobed butterfly check valve with smooth flow and low fluid resistance
6. Sensitive movement and good sealing performance
7. Double-disc butterfly check valve with short disc travel and low impact force
8. The whole structure is simple and compact, and the shape is beautiful.
9. Long service life and high reliability
Design drawings
Major Dimensions and Weights