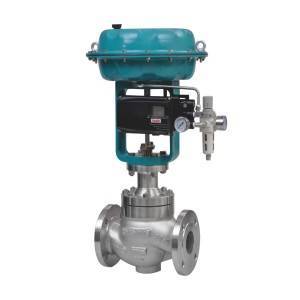 SINGLE-SEAT PNEUMATIC CONTROL VALVE
Description
Product features
Zjhp fine and small pneumatic single seat control valve is composed of pneumatic multi spring diaphragm actuator and low flow resistance single seat valve. The new actuator is low in height, light in weight, easy to install, compact in structure, unobstructed in flow passage, large in flow coefficient, reliable in action, small in seat leakage, accurate in flow characteristic and wide in adjustable range.
Main performance specifications
Main technical parameters of regulating mechanism
Note: ANSI, API, JIS and other foreign flange standard products can be provided for users, and the structural length can also be determined according to the needs of users.
Main technical parameters of actuator
Drawing of pneumatic single seat control valve
Main connecting dimensions of pneumatic single seat control valve
Material of main parts of pneumatic single seat control valve